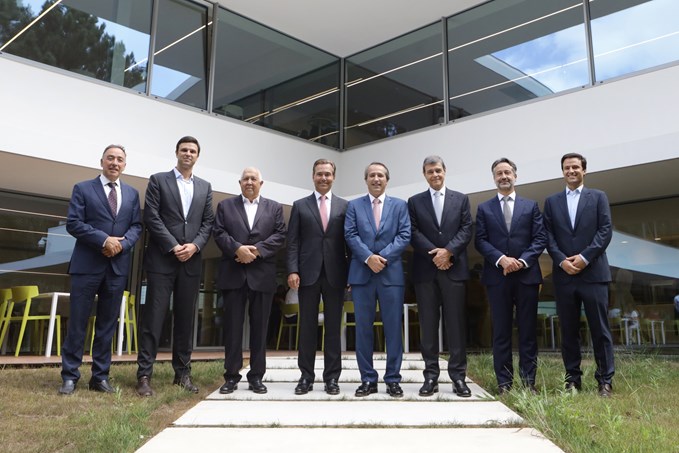 This Thursday, BIAL unveils its new company headquarters building: "Lake House". Designed from scratch by architect Carlos Prata, this space is specially designed to encourage open communication and interaction between all employees, regardless of their department or specialisation.
With two floors and a total construction area of 1,134m2, the building represents an investment of two million euros and is inaugurated by the Mayor of Trofa, Sérgio Humberto.
The name "Lake House" was chosen at the suggestion of employees following an internal vote and pays tribute to the natural green surroundings in which the building is integrated, including the small lake that forms part of the site where the company's headquarters are now located.
The new building has a set of infrastructure that reflects the company's concern with creating an optimal work environment and looking after people's well-being, including a dining area with a cafeteria and canteen service, a games room with billiards, table tennis and table football, a television and video games room, another room for board games, and a reading and relaxation room. The versatility of this space also allows it to be used by the BIAL community for other informal moments such as teambuilding, commemorative and leisure activities, as well as for meetings and training events.
As Miguel Portela, Administrator and Corporate General Director of BIAL, comments: "BIAL sources its human talent from multiple origins and geographies, and we believe it's important not only to offer the best conditions for professional development, but also to create opportunities for closer ties within our community. We are convinced that the space we are now inaugurating will be a strong incentive for this to take place."
"In addition to all the features of the new building we are making available to all our employees, the building also has the merit of offering a connection to the green space we call the forest through a pedestrian bridge, allowing people to use this space to eat or just relax. With this new building, we intend to foster interaction and communication between our employees, establishing closer ties with the company and reinforcing a feeling of belonging and union", Miguel Portela adds.
The BIAL Campus currently occupies an area of around 24 hectares and, in addition to the group's new headquarters, comprises industrial units for medicine production, state-of-the-art research laboratories, and logistics facilities.
BIAL's history spans more than 98 years. In developing its activity, BIAL invests in highly qualified human resources, establishing itself as a pole of attraction for qualified national and international talent. Among group employees, 84% have higher degrees, 10% hold a doctorate, and 54% are women.
About BIAL
BIAL is a company focused on research, development and innovation, investing an average of 20% of its turnover in R&D activities, thus putting science at the service of human health and improving the quality of life of people around the world.
The company has strengthened its international presence, offering products in more than 50 countries and with subsidiaries in important European pharmaceutical markets such as Spain, Germany, Italy, the United Kingdom and Switzerland.
BIAL's sales in international markets currently represent around 80% of the company's turnover, with Spain and the USA being its main markets.