Maria de Sousa Award 1st edition - 2021
Award Ceremony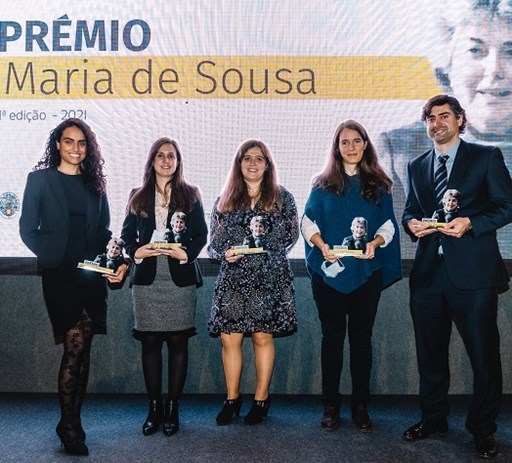 The Maria de Sousa Award was delivered on November 24 to five Portuguese researchers, in a ceremony that took place at Teatro Thalia, in Lisbon, and was presided over by Prime Minister António Costa.
The jury selected research projects in the areas of
cancer, cellular functions, sleeping sickness and cardiac biomaterials
to award prizes worth up to €25,000 for each researcher, including an internship at an international center of excellence.
The winners, all young doctorates in health sciences, are
Daniela Freitas
(i3S - Institute for Research and Innovation in Health Sciences, University of Porto),
Sara Silva Pereira
  (iMM - Institute of Molecular Medicine - João Lobo Antunes, University of Lisbon),
Mariana Osswald
(i3S),
Pedro Marques
(Santa Maria Hospital, Lisbon) and
Andreia Pereira
(i3S).
Watch the awards ceremony
here
(Portuguese only)
Find out more about the awarded works
here
Watch the 2 minute video 
here
 (Portuguese only)